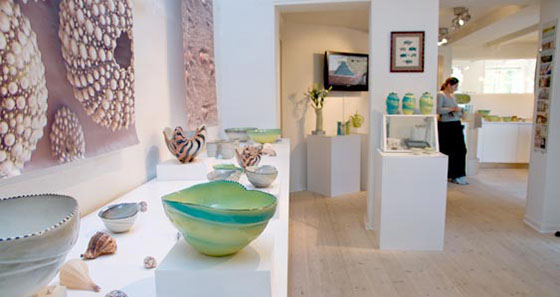 My workshop (and private dwelling) is situated right in the middle of Svendborg's Latin Quarter. The ferries to the South Funen Archipelago are only a stone's throw away, the train and bus station is right around the corner and the busy town center is a few minutes walk away.
If you arrive by car, follow the signs pointing towards the ferries and then turn from the Havnepladsen to Sankt Peder Stræde. The entrance may by hard to find as it looks like the entrance to a private parking lot. Note that your GPS may not be able to find no.7 Sankt Peder Stræde.
See Map
There is a parking space for my customers – remember to require a permit to put in your car to avoid a Ticket!
The regular opening hours are limited to
Wed, Thu, and Fri 13-17.30, 
and Sat 10-14.
But you are always welcome to contact me and make an appointment at +45 5126 7916 or ulla@ullasonne.dk.
During the main tourist season I will normally extend my opening hours.
The Gallery is where I have my permanent exhibition as well as where I show what inspires me, and how I use it in my work.
Most importantly this is where I have my workshop with kilns and throwing wheel, decorating tables, and glazing sink. This is the place where all my work is created. I work alone, without assistents or apprentices.